Basic Performance Fees
My performance fee does vary depending on the event and location, but generally speaking, I ask a flat $600 fee for a concert performance (also see Travel Expenses below) unless there are special circumstances. If the concert is at a church or a fund-raiser, for example, and there isn't a budget for a concert event, I'll work with you to find something that works out for both of us. If you want to have me come play for you, don't let the fee discourage you. Talk to me. Let's see what we can work out. All things are possible.
Event Type

Standard Fee

House Concerts

My fee is $600 for a house concert if that is doable, but I realize not everyone can afford that. The fee is negotiable to some degree based on my schedule and other performances I may have in your area. Read more about house concerts and requirements for them below. See the info on travel expenses also.
Questions? E-mail me at dnevue@rainmusic.com.

Church Concerts & Ministry Events

I don't really have a set fee for church or ministry events because while some larger churches can afford my fee (usually $600), other smaller churches simply can't. Make me an offer that you feel you can joyfully give. If you have a budget for special guest events, that's great. But if you can only offer a "love offering" plus a small stipend, that's fine too. Contact me at dnevue@rainmusic.com and let's talk about it. Read more about church concerts below. See the info on travel expenses as well.

Colleges and Universities

The rate will vary depending on the circumstance. If the concert is a ticketed event, an example of my fee would be $600 or 50% of ticket sales, whichever is greater. See the below info on travel expenses as well.
Questions? E-mail me at dnevue@rainmusic.com.

Charities, Benefits, Fund Raisers.

The fee varies depending on the event. I suggest one of two options:
Option 1: Find a sponsor to cover my fee ($600). Then all ticket sales and proceeds go toward the charity or benefit. If you sell tickets for $20, and sell a mere 200 seats, that's $4000 to go toward the charity. All I ask, aside from my fee, is that I can sell CDs at the event. See the below info on travel expenses as well.
Option 2: This is intended for smaller organizations who cannot afford my fee or find a sponsor to pay it. What we'll do is simply split the ticket sales. 50% goes to me, 50% to the charity. This is a no-lose situation for you, as the organization doesn't pay me anything up front. However, you may pay more after the fact. We would need to sit down and talk about possible travel expenses.
Questions? E-mail me at dnevue@rainmusic.com.

Weddings

$1500-$2000 + travel expenses. The amount varies depending upon what is required. For example, if you just need background music for a dinner reception, that will be toward the low end. If you need music during the wedding service itself, that requires more planning and coordination. The tux rental (or any other clothing purchases necessary for the wedding) is not included in this fee.
Questions? E-mail me at dnevue@rainmusic.com.
Travel Expenses
If you're in the Eugene, Oregon area (or within a reasonably short drive of there), there are no travel expenses to worry about as Eugene is my home town and I can drive to you. If you're booking me as part of a concert tour (I sent you an email letting you know I'm booking touring in your area and you're responding to that) then you probably won't need to worry about travel expenses either. I've worked that into my $600 fee, so if I can book several shows in one area, my expenses are more than covered by those individual fees. However, if this is a one-off concert, meaning I'm flying out just for your show, then travel expenses need to be taken into consideration. I will go pretty much anywhere within the U.S. to play a concert so long as my basic expenses (air, car rental, accommodations, allowances for food and gas) are covered. When you contact me, just let me know where you're located and I can give you a general price range of what to expect. If you don't think you can afford that, contact me anyway. I may be able to include you on a tour route at some point in the future, and if I can do that, you don't need to worry about travel expenses. Feel free to email me at dnevue@rainmusic.com to discuss the possibilities.
Sponsorships
For help paying my fee, considering asking a local business or business person to cover my fee for the event. In exchange, you can print their business information on a program plus I will be happy to give them a public acknowledgment/word of appreciation at the concert.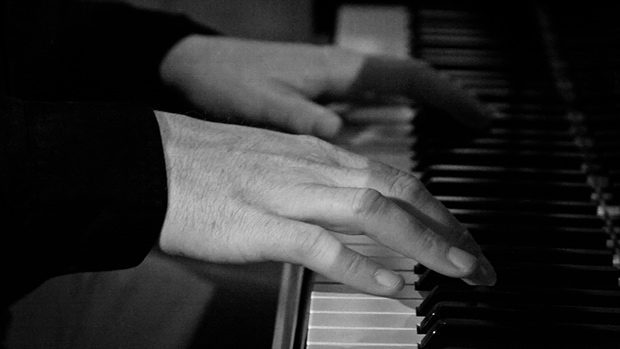 House Concerts
House concerts are a wonderful thing! They are incredibly intimate and will provide your guests with an unforgettable memory! If you wish to have me come and play a concert in your home, there are a couple of requirements:
I ask that you provide a piano in good condition, tuned up just prior (within a week) to the concert. The piano doesn't have to be a grand piano, just a piano that plays well, with working keys and pedals. Even a small upright is fine.
I would ask that you be willing to help promote the show to your friends, family, and acquaintances, and that you commit to doing your best to bring at least 20-30 people into your home.
I try and get $600 for a house concert if I can to help cover my expenses, though I know not everyone can afford that. If that's more than you can manage, contact me anyway, and let's see what we can arrange based on my tour schedule and availability. Financial Tip: Some folks will ask a $10/person donation from attendees to help pay the fee or even just to put that toward supporting my music. That's fine by me. Also, please read the info above about travel expenses as that could enter into it.
I ask that you allow me to have a table space to make my CDs available for purchase by concert attendees who would like to buy them. Your guests will not be "pressured" into buying CDs. I'll simply have them on display and if folks want them, they'll be able to purchase them and help support my music and my family.
Here are a few testimonials from people I've played house concerts for....
"The thrilling experience of David's performance in my own home far exceeded any of my expectations! I did not want the evening to end! I continue to spread the word to others, who have also enthusiastically embraced David's talent and amazing music. Whatever you may think it would feel like to have David Nevue perform in your home... it's BETTER!"

Daria Murphy, York, PA.
"I've been to hundreds of concerts, and without a doubt, having David Nevue perform in person at my house was the single most memorable concert I've ever been at - it was FANTASTIC! David played almost all of my personal favorites, and told the stories behind the songs. I got numerous comments from guests thanking me for inviting them to such a unique experience - none had ever attended such an intimate concert. Thank you David for giving me and my friends a night we will always remember."

Pat Schannach, Hastings, MN.
"After David's concert Saturday, I walked away inspired and touched. David gives the gift of emotion in every moment, key stroke and sound that emanates from his gifted fingers. It was the most wonderful evening my husband and I have had out in a very long time."

Laura Service, Portland, OR
"My husband and I were so thrilled to have David come to our home and give our friends and us a personal concert!! What a awesome experience! My friends absolutely loved the whole beautiful evening. David has such natural talent with his music and his storytelling!! It was a magical and beautiful evening."

Jackie Brown Eau Claire, WI
"I just wanted to thank you for making my 38th birthday the most memorable I've ever had. My very close friends and family really enjoyed your music and were all so appreciative to experience such a wonderful and quaint concert with me. Actually some of them were inspired to start learning an instrument."

Lt. David George, Cherry Hill, NJ
"When I heard that David would be doing house concerts in Iowa, I felt God nudging me to consider it. It turned out to be the most lovely evening. David's faith and experiences which dictate his music were like messages from God. I still look back on the whole evening very fondly."

Jackie Van Ahn, Des Moines, IA
"I never knew my piano could sound so good until David started playing. As soon as he touches the keys he makes the room come alive! He's just a master of the instrument and having all my friends there listening at my home concert made it even better! Having David playing in my home, (twice now), I'll have memories that will last a lifetime. My friends still talk about the concert months afterward. I would HIGHLY recommend having a home concert with David Nevue."

John Mocker, Dubuque, IA
"Our studio is a cooperative for music teachers so a workshop, centered on the art of composing, was arranged prior to David's concert for our students. In just two hours, he was able to establish a comfortable rapport with the students through humble yet inspirational story-telling which he punctuated on the piano. He encouraged them, as an exercise, to improvise on pieces they already knew, and before it was over a surprising duet of Pachelbel's Canon in D materialized to the delight of all. David stressed the benefits of music theory, that if they understood the "math," so to speak, composing their own works would easier. A number of the students returned that evening for his concert, an impromptu selection of his work which David chooses after his arrival and has gained a sense of the people and place. For us, David Nevue's performance was a beautiful ride––we wafted like leaves through enchanted, charged air, were refreshed as if we were cascading along a glistening river, and felt the heat of his notes as they blazed, sufficient to ignite a bon fire."

Lisa Loy, www.thecarolinianstudio.com
"I just wanted to thank you again for bringing your music and inspiration to St. Pete. I can't express how moved I was by your stories and music. I've been a fan since Karri first shared your music with me, but the live concert experience is so much more. You have a marvelous gift for sharing yourself with strangers in a way that makes them feel like you are an old friend. I am humbled by the fact that you came to our little church and then were gracious enough to join us for ice cream. One thing that attracts me to your playing is your expressiveness. I came upon a realization during your concert & I found a way to put it into words: You make the piano sing. You play the hymns the way I would express them as a solo vocalist. The nuances & subtleties you use are similar to the way the words form in my heart & soul. And you do this without a single word spoken or sung aloud. Amazing. Thanks again for so generously sharing your gifts, message, stories, and self with us."

Terry Bartlett, St. Petersburg, FL.
So, want a house concert of your own? Email David at dnevue@rainmusic.com
Church Concerts and Ministry Events
As previously mentioned in the fees section above, I don't really have a set fee for church or ministry events. I completely understand that while some larger churches have no problem at all with my fee (usually $600), other smaller churches simply can't manage that. My goal isn't to "make money" off you... it's to minister to you and your congregation. Make me an offer that you feel you can joyfully give. If you have a budget for special guest events, that's great. But if you can only offer a "love offering" plus a small stipend, that's fine too. Contact me at dnevue@rainmusic.com and let's talk about it. Incidentally, if you are a church pastor and/or ministry event coordinator, you may want a list of references from me as well a better idea of who I am and what I believe. Please take a look at this Fact Sheet, in PDF format, which explains who I am, my mission statement, and includes some testimonials from other pastors who have had me come and share with their congregation. If you have any questions or concerns, just email me at dnevue@rainmusic.com. I'll be happy to chat with you.
Other Items of Note...
Availability
My availability varies. When I'm in "tour mode" I can get quite busy traveling around the country. I also, periodically, take breaks from traveling to focus on time with my family as well as to give me some creative time to write and arrange new material. Check out my concert calendar to see what my schedule looks like. I can book shows as far out as we need do. If you are in the Eugene, Oregon area, I may be able to squeeze you in just about any time. Shows elsewhere require a bit more time to plan and fit within my schedule. I like to book out of state shows at least four months in advance, preferably six. So contact me at dnevue@rainmusic.com and we'll see what we can work out.
Piano Requirements
All I ask is that you have a piano in good working condition. The pedals must work and all the keys must play. Naturally, I do prefer a 'grand' piano when I'm playing in a concert setting, but it's not necessary. I will play an upright if it's in good working order (especially for house concerts). I also request that you have the piano tuned just prior to the event - this is especially the case for formal concerts and house concerts. For shows at book stores, malls, coffee shops and the like, just having had the piano tuned within the last six months is usually sufficient.
CD Sales
As this is how I make my living and support my family, I do ask that whether I'm playing in your home, your church, school or any other vernue that I be allowed to have a table from which I can offer my CDs for sale. I do NOT do any kind of pressure sales in a concert setting... I don't need to. The music speaks for itself. All I ask is that I be allowed to have the CDs available for purchase for those concert attendees who would like to take the music home with them.
Piano Rentals
If you are in Oregon, I can rent a very nice digital piano (along with speakers) and bring it along for $150. This is in addition to the normal fee. If you live in an area where I'd have to hop on a plane, then I would expect you to provide the piano.
What's a 'David Nevue' Concert like?
Note: At events like weddings, dinner parties, coffee shops, book stores and such, I simply play my music as background music. But at formal concerts, things are a bit different...
Mission: First, read my mission statement to get an idea of where I'm coming from. Much of my music is inspired by my faith and by my love for The Bible, so when I talk about my music in a concert setting, it's not uncommon for me to share readings from the Bible (such as the Psalms) as part of the program to better relate where the song is coming from. However, I do not consider myself a preacher. I don't preach - I tell stories about my life, and my faith is part of my life and my art so naturally that comes into play.
Stories: Every song that I play has a background story... and in a concert setting I share those stories in a fun and engaging way. You're going to smile a lot. And laugh... and maybe even tear up on ocassion. Most of all, you will be encouraged, inspired, and uplifted! We have a great time.
Emotion and Intimacy: I am a very emotive piano player, so expect to see something interesting to watch as well as to listen to. My concerts are not boring. I strive to be very personable when I'm telling the stories behind the songs. I speak to you, the audience, as I would a close friend. I let the audience see and understand my heart's desires so they can better relate to the music they are hearing. It is this approach to a performance, in part, which makes it such an unforgettable experience.
Time: Expect a show to run about two hours, which typically includes a 15-20 minute intermission. If you have a specific program length in mind, shorter or longer, it can be arranged.
email me at dnevue@rainmusic.com for more information, availability, and a quote specific to your event.
Note: If you do not hear back from me within 48 hours, call 541-225-8307 and leave a message. It's entirely possible that your email message (or my response to you) got caught in a spam filter.