Short Summary: David Nevue is an award-winning, internationally recognized pianist, composer and recording artist who resides in Oregon. In 1992, David released his first album of piano works called The Tower, written as a soundtrack for one of his short stories. In the years since, he has released fourteen other albums including his most recent, Winding Down, which entered the top 10 on Billboard's "New Age/Instrumental" album charts and went to #1 on Amazon.com's "Hot New Releases" music sales charts. Winding Down was nominated for "Piano Album of the Year" by Zone Music Reporter and named "Best Solo Piano Album of 2015" by One World Radio. In July 2006, The Wall Street Journal named Nevue a "media mogul" including him on a list of producers "being catapulted into a position of enormous influence." He is one of the few independent artists to surpass a billion spins on Pandora radio and was recently (2018) interviewed and featured in Rolling Stone Magazine. As a seasoned performer and touring artist, David has shared the stage with some of the genre's most recognized names, including David Lanz, Wayne Gratz, Peter Kater, Suzanne Ciani, Brian Crain, Robin Spielberg and others. You'll hear David's music on hundreds of radio and streaming programs worldwide, including Spotify, Sirius XM Satellite Radio, Music Choice and Pandora Radio.
Also notable, David is the founder and program director for Whisperings: Solo Piano Radio, a very popular and successful Internet radio broadcast. David started Whisperings Radio in 2003 - it was the very first Internet radio broadcast available anywhere that featured solo piano music exclusively.
The Details: With a piano style somewhere between Chopin and George Winston, David Nevue brings melody and heart back to instrumental music. Perhaps Heartsong Review said it best when they described his music as "hauntingly romantic." David's music introduces us to a wilderness of musical ideas which the listener becomes anxious to explore.
Interestingly enough, if you ask David about his musical background he might surprise you. He comes not from a background of polished piano music, but grew up a typical 1980's teenager strongly under the influences of such progressive rock artists as Rush, Pink Floyd, Jethro Tull, Supertramp, Kate Bush and Kansas. David pursued rock music as a "career of interest" throughout his college years. He wrote many songs (with lyrics, which he sang lead vocals for), and played piano/keyboards in garage bands comprised mostly of musical friends he made in college. (In those years, David performed on a Roland Juno 106 keyboard and a very cool Helpenstill Roadmaster 64 piano. Neither of which he owns any more, unfortunately!)
It wasn't until David's college roommate introduced him to the piano music of George Winston that he began to take an interest in playing "just piano." Fascinated by Winston's impressionistic style, David began to explore writing in a similar style. While he did continue to "rock" with his musical friends, when he was alone, he'd go off by himself, find a piano, and experiment.
During college, David wasn't really known for his musicianship. Outside his small circle of musical friends, very few people even knew he played piano. David did spend time in the spotlight, but not as a musician… as an actor. David was very involved in theater during his college years. He played Demetrius in A Midsummer Night's Dream as well as lead roles in Oh it's Just War, Coyote Goes Upriver and a stage adaptation of C.S. Lewis' The Screwtape Letters. The latter was David's favorite. He not only played the lead human role, "Michael Average," he also composed the synthesizer-based score for the stage play (the score included the songs Solitude, The Assimilation and Undertow which were later recorded and released as solo piano arrangements on David's albums The Tower, While the Trees Sleep and Open Sky respectively) David was also a member of the six-person improvisational theater group Intermission (and for a short time, Chrysalis Theater Group). If you were acquainted with David in college, you probably knew him as an actor, not as a musician.
David's first public performance as a solo pianist came in 1987, his senior year. David performed one of his original piano compositions, The Princess, for a college-wide talent show. When he finished playing the song, David requested three music notes from the audience and proceeded to improvise a theme on the spot. David took first place at this competition, winning $50 (a very big deal at the time!)
1987 was also the year David met Julie, the love of his life. She was an accomplished violinist and, like him, played the piano. She was, however, classically trained (unlike David), and spent ten years of her young life playing violin with the Portland Youth Philharmonic Orchestra. Naturally, they had music in common. They married in 1989, and David decided the time had come to stop playing "rock star." He left his band to focus on his new marriage, earning a paycheck, and continuing his work at the piano.
David's early years were creatively strained. Once he left college, he no longer had easy access to a piano, making it a challenge to practice and even more difficult to compose new songs. Fortunately, he and his wife began attending a church near their apartment, and the church was gracious enough to allow him to stop in and practice on their piano after his work day (at this time he worked in desktop publishing at a print shop in Portland OR.)

By 1991, David had a dozen original solo piano songs ready to record, but had no idea where to record his music. He consulted with Pacific NW artist Jeff Johnson, whom David considered a great inspiration and mentor, and based on his recommendation ended up at the home studio of Billy Oskay (of Nightnoise fame). There, he recorded his first album, The Tower, which was released in 1992. The album was based on a short story that David had written in college. He took that story and put it to music, making the album a soundtrack of sorts. David sold the album to friends, family and co-workers initially, and played concerts at his church and local coffee shops. Any money David made from the sale of his album, he put aside to invest in possible future albums.

David continued to write for piano in his spare time (he was working 50-60 hour work weeks at his day job at this point). Eventually he saved up enough money (and composed enough songs) to record his next album, While the Trees Sleep. Released in 1995, While the Trees Sleep was quite a departure from the more dramatic sound of The Tower. While The Tower was an exploratory, experimental album, on While the Trees Sleep it was evident that David had begun to settle into the unique, melodic piano sound he's known for.
1995 was a transformational year for David. He took a job working for Symantec Corporation in Eugene, OR providing BBS support for software products. He found himself right on the front lines of the technology industry and still remembers testing out Mosaic,, the first web browser. At that time, the Internet was just a curiosity... not a lot of folks took it seriously. Even so, David was one of the first artist's to put up a web site to market his music. He used it to promote his While the Trees Sleep album and to experiment with marketing ideas he'd come up with for selling his music on the "world wide web." Within two years, David was selling several CDs a week from his web site, and he began building up a mailing list of new fans from all over the world.

As before, he saved up his earnings from CD sales and performances and in 1997, headed back into the studio to record his third album, The Last Waking Moment, an album inspired by a dream his wife had about a face to face meeting with Jesus. David put the story of the dream to music.
By this time (1997), David realized he had found a real niche selling his music online. He was shipping CDs out every single week. When he talked to other musicians he knew, they either weren't promoting their music online at all or else they had a web site, but weren't selling much of anything. This gave David the idea to write a book documenting his music marketing ideas.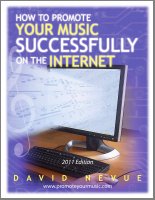 In November 1997, David released the first edition of his book How to Promote Your Music Successfully on the Internet, which he updated periodically for fourteen years (2011 was the final edition). The book was a big hit with independent musicians. Between book sales and sales of his first three albums, he was able to very quickly start thinking about recording another album.

In July 1999, David released his fourth album, The Vigil. Influenced heavily by the Psalms, The Vigil follows the events of a single, sleepless night spent in meditation and prayer. The album thematically begins at midnight, and ends at sunrise the next morning. David considers this album to be one of his personal favorites.
On March 9, 2000, David's first child, Nathan, was born. This was life-changing to say the least, but lots of changes were coming. By late 2000, David was making as much income running his music business online as he was working his full time job at Symantec. With his Internet business booming, David saved up a year's salary and, with that in the bank, quit his day job at Symantec in November 2001 to focus solely on his Internet music ventures.
After four albums, the time had come to release a "best of" collection highlighting some of his most popular works. So, in 2001, David released Whisperings: The Best of David Nevue (1985-2000), a collection of fan favorites from his first four albums. The collection includes a brief history of David's works in the liner notes. The Whisperings album has become one of his best selling CDs.

Shortly thereafter, David released another album of original works, Postcards from Germany. The music on Postcards was inspired by David's travels to Germany and Austria with his wife in 1998. Each song represented a "postcard" of an event, place or adventure, making the album a musical scrapbook of sorts. Postcards marked the start of a new era for David's music; it was the first album for which he was able to financially invest in a global radio campaign. Over 200 stations worldwide picked up David's music, as did music subscription services such as Music Choice, Muzak and DMX. Postcards from Germany went all the way to #2 on the Zone Music Reporter radio charts, a reporting system that measures radio play for the Classical/Acoustic/Ambient/New Age music programs that David's music is frequently included in.
One of the biggest challenges facing David as a solo pianist was getting significant, consistent airplay on radio. After all, there weren't any "solo piano" radio stations in existence and the only commercial radio programs that accepted his music were generally of the "New Age" music variety. So, David decided to create his own radio broadcast. In August of 2003, David launched Whisperings: Solo Piano Radio, an Internet radio station featuring solo piano music exclusively. The broadcast was initially launched using Live365's radio hosting service, and its popularity exploded. Within eighteen months, Whisperings was the #1 radio broadcast on the entire Live365 network, a position it held for seven years (until David moved his primary audio player to a new service.)
Late 2003 saw the release of O Come Emmanuel, David's first (and so far only) Christmas album. A fan favorite, O Come Emmanuel features David's very unique interpretations of both popular and traditional Christmas songs. O Come Emmanuel rose to #2 on the ZMR charts and stayed there for the duration of the 2003 holiday season.

In June, 2003, David's second child, Noelle, was born. Having two small children in the house, David couldn't help but be inspired by the adventures that fatherhood brought. So in May of 2004, David released his eighth album, Sweet Dreams & Starlight, an album containing sweet songs, melodies and lullabies he wrote for his children. Sweet Dreams topped the radio charts at #5.
David's life was about to change again, but this time, it wasn't an addition to his family, but a loss. In October, 2003, David lost his father, a missionary, evangelist and street preacher, to cancer. Many of the songs David composed during this time reflected his coming to grips with this loss.

In 2005, David released Overcome, a tribute to his father's unwavering faith and a musical testimony to relying on God's sovereignty during difficult times. Overcome went to #2 on the charts, and was nominated for – and won – "Best Instrumental Piano Album of 2005" at the Lifestyle Music Awards.
2005 also marked the beginning of David's touring career. One big element of David's vision for Whisperings: Solo Piano Radio was to create an opportunity for solo piano artists to perform concerts together. 2005 saw the first Whisperings concert in Bellevue, WA which featured not only David, but also pianists Joe Bongiorno, Joe Yamada, Mike Strickland and Alexx Carnathan. A big success, this show led to others, including a concert in St. Louis, MO. David had never played a concert so far from his home before and didn't want to lose money on the trip. So he sent out an email to his fans in the states of Missouri, Indiana, Iowa and Wisconsin asking if anyone wanted a "David Nevue" concert in their home or church. To his surprise, David got many responses and was able to put together a short tour that included eight performance dates. That was the first "David Nevue Concert Tour." David now tours on a regular basis, going out to different parts of the country several times a year. He still books all of his own concerts simply by reaching out and connecting with fans across the country.
One of the tracks included on David's Overcome album was a heartfelt piano arrangement of the hymn It is Well With My Soul, which was one of his father's favorite hymns. David's time working on that inspired him to create arrangements of other favorite hymns as well.
This led to David's 2007 release, Adoration: Solo Piano Hymns. Adoration quickly rose to #1 on the Zone Reporter charts, becoming David's first #1 album. Adoration was also the first album David recorded at the now famous Piano Haven recording studio in Sedona, AZ. (Adoration was only the second album ever recorded there).
By this time in his life, David was regularly leading worship (on guitar) at his church, so he had become intimately familiar with contemporary worship songs and melodies. While in the studio recording music for Adoration, David took frequent breaks to improvise on contemporary praise and worship melodies. This was done on a whim, but by the end of the recording session for Adoration, David had completed recordings of nine additional songs, all improvisations. David returned to Piano Haven a year later to record more improvisations, original melodies and hymns.

The result was David's eleventh album, Revelation: Solo Piano for Praise & Worship, released in 2009.
With work on Adoration & Revelation completed, David was freed up to return to his first love; creating original music. It had been five years since he'd released an album of original compositions (Overcome) and he was busting at the seams with new music and ideas. After releasing Overcome in 2005, David put thousands of miles on the road touring and performing his music. Often he had his family along for the ride. All that time they had together, the adventures, the fun and fresh air, the life experiences... inspired music, and lots of it.

In 2010, David returned to the studio to record his next album, A Delicate Joy, a celebration of life, family, faith and living every moment to the fullest. The album was released in November 2011 and went to #4 on the Zone Reporter Music charts.

January, 2012 saw the release of Awakenings: The Best of David Nevue (2001-2010). Like Whisperings before it, Awakenings was a "best of" collection of fan favorites. While Whisperings covered the years 1985-2000, Awakenings was a collection of musical highlights from albums released during the years 2001-2010.
After finishing up A Delicate Joy, David was left with a dozen songs that didn't fit into the "Delicate Joy" concept... songs that were more driving, edgy, experimental and even melancholy.
Those remaining compositions (plus a few new ones) made up David's next album, Open Sky, which is perhaps David's most musically diverse albums. Open Sky is a musical expression of freedom, exploration and the exhilaration that comes from seeing and experiencing new things. It celebrates those wide awake moments when you feel truly alive... almost as if you were somehow standing a little closer to heaven. The album went to #3 on the Zone Music Reporter charts in December 2013.
After taking a much needed break from touring, David began to work toward his next album, Winding Down. His approach to the new project was methodical, with the intent of creating deliberate compositions.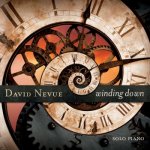 In other words, David was not content to roll out whatever simple melodies fell on his hands through improvisation, he set out to finely craft the music in an effort to take his composition to "the next level." Under a flurry of inspiration, David composed the framework for the entire album in just six weeks - every song designed with purpose, not only to be melodically pleasing, but also to be melodically surprising. Winding Down was released in June 2015 to many accolades, including being nominated for Best Solo Piano Album of 2015 by both Zone Music Reporter and One World Music Radio (it won!). The album went to #2 on the Zone Music Reporter charts in November 2015.
Currently, David is at work on two new album projects; a new album of original compositions and another which is, as of yet, being kept a secret.
David continues to promote his music on the Internet on a daily basis. You can follow his progress on Facebook, Twitter and/or sign up for his mailing list. If you think you might be interested in here David for a concert in your home, church, school or other venue, you can read up on how to book David for a concert here.
When David started his journey writing music for piano in the mid 1980's, "solo piano" was an obscure, relatively unknown label for piano music. Today, there are hundreds of solo piano artists all around the world. Even so, David Nevue stands out. He has a unique, melodic sound, which soothes and calms in this busy, noisy world.